Description
FREE SHIPPING
The original deck has expanded to include months, days, colors, holidays, phrases & new words!
39 Full color (front & back) cards 3.5″ x 2″ — easy for children to hold, easy to take them along!
Complete Aleph Bet (22 letters – 22 cards),
Sister Letters – Sound Alike Letters Card,
Sofits (The Final letters) Card,
Vowel Cards,
The Whole Megillah—complete Aleph Bet on 1 card,
Introduction Card,
23rd Psalm Card in English (it's shown in Hebrew along the sides of the letter cards),
plus, of course, the nine new cards of days, months, holidays, phrases & words, and colors.
On each of the Aleph Bet cards, the aspiring student will find the name of the letter in Hebrew and English, along with its numeric value and its equivalent phoneme or sound. Arrow lines on the block form letters show how to write the letter. The script form is shown in green and if there is a sofit form, it is in red. The English name for the high quality photo subject is given above it; below is the way to say and spell it in Hebrew. Along the side of each card is given one line of the 23rd Psalm, so students can practice their newly learned skills. The back of the cards show the Akhlah Star, which carries the six basic tenets of Judaism: Torah, Commandments, Justice, Family, Israel, and Prayer, in Hebrew. With a little practice, the beginning reader will soon be able to sound out these important concepts. Akhlah's Aleph Bet cards are designed to help students gain a quick recognition of the letters and the sounds they make, helping them to sound out Hebrew words and letting them learn a word that starts with that letter. This builds confidence and allows the student to want to go further.
No bigger than standard business cards, they are small enough to be comfortably held in young hands, and fit into small pockets so they become an easy traveling companion.
They come in a hard-shell clear plastic case to keep them clean and together, so they'll last for many years.
With two sets, match games can be played for hours of educational fun.
---
All proceeds are donations to Akhlah: The Jewish Children's Learning Network 
Thank you for your support.
Summary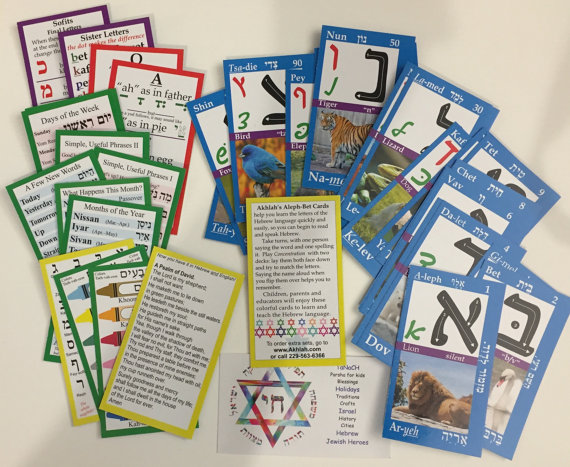 Author Rating





Brand Name
Product Name
Hebrew Flashcards - VERSION 2
Price
Product Availability